Continuous online monitoring with SCADA Ready SMART* Dehydration Control
Smart Grid Application of The DryKeep® SYSTEM
The DryKeep® USA SMART (SCADA Monitoring Analysis and Reporting Technology) SMART controller system constantly monitors the transformer oil temperature and the moisture-in-oil coming into and leaving the DryKeep® system. Sensor information is sent to the SMART DryKeep® controller and using proprietary algorithms, the controller calculates an estimated percentage of moisture in the paper. A 7-inch touch operated color LCD screen (HMI) is provided to view system status and real-time moisture and temperature values under actual transformer operating conditions since the transformer remains energized.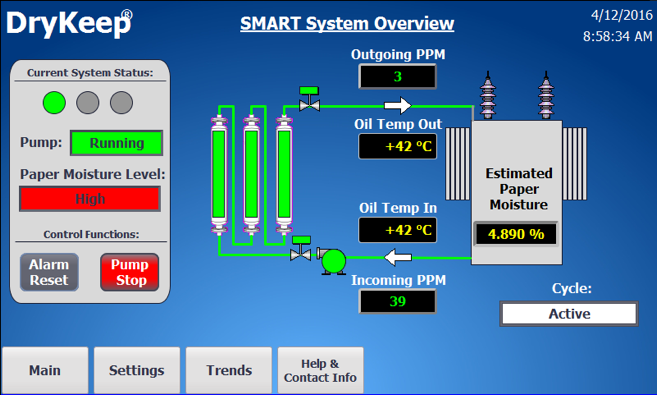 Moisture is always in a dynamic state, migrating between oil and cellulose insulation which means that a moisture reading from an oil sample taken at a single point in time may not by typical. These variable factors can provide a false sense of reliability and consistency when taking individual samples for Karl Fischer testing. Many issues need to be considered when collecting, transporting and storing oil samples. The samples can easily become contaminated if sampling instructions are not strictly followed. The new SMART DryKeep® continuous on-line monitoring system eliminates these variables.
The permanently installed sensors at the inlet and outlet points of the SMART DryKeep® system provides a repeatable engineering-based process that continuously measures the water content and temperature of the oil.
All data is plotted on trending screens and is logged for retrieval for historical analysis.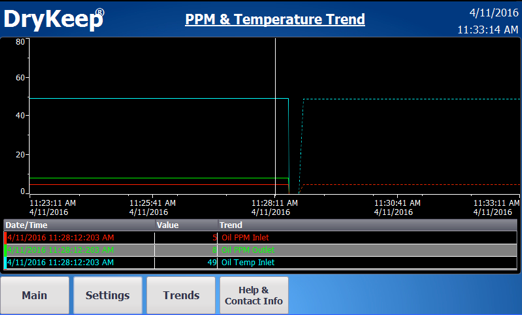 "A permanently installed DryKeep® on-line monitoring system offers a timely cost-efficient maintenance procedure for power transformers. It allows the user to continuously monitor moisture content and temperature of the insulating oil without taking individual oil samples."
All logged data can easily be downloaded to a laptop in .CSV format through the RJ45 Ethernet Panel Interface Connector mounted on the inner swing panel of the controller enclosure. All data and alarms can be retrieved remotely through the user's SCADA system with DNP3 and MODBUS protocols supported. All alarms can be sent through the user's SCADA system and can also be sent via cellular to appropriate personnel's mobile devices.
The DryKeep® SMART dehydration control system prevents overdrying of previously in-service transformers by controlling the system pump based off of the calculated estimated percent moisture in the paper insulation. When the DryKeep® system brings the transformer down to a safe moisture level, the system will automatically go into an inactive state to prevent overdrying.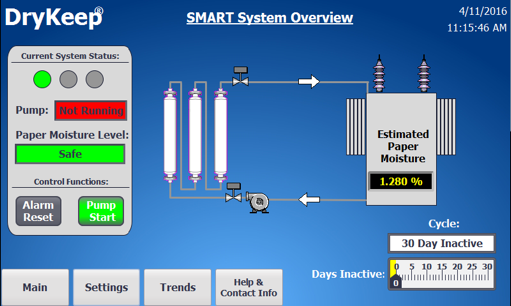 After 30 days, the system will restart to see if further drying is necessary or if another 30 day inactive cycle is appropriate. Alarming is provided for saturated cylinder and possible leak detection notification. All alarms are shown on the HMI, via the stack lights mounted on the controller enclosure, through the user's SCADA system, and/or via cellular to appropriate personnel's mobile devices.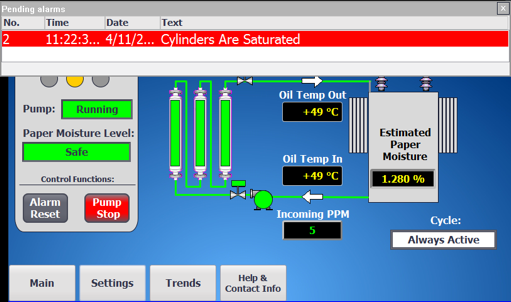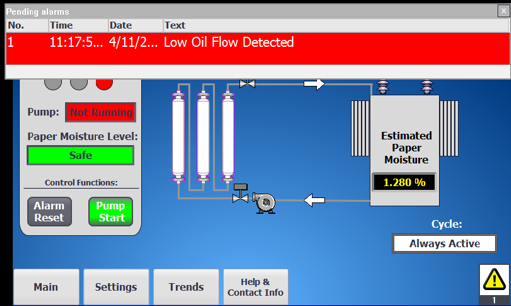 All DryKeep® SMART monitoring and dehydration systems feature:
Two (2) permanent moisture-in-oil sensors.
Flow indicator switch to monitor for any potential leaks.
Solenoid safety isolation valves at inlet and outlet to isolate DryKeep® from the transformer in the unlikely event of a leak.
Deaerator tank with oil bleed valve and hose to remove any oxygen in the system.
One (1) or three (3) regeneratable adsorption cylinders.
Static dissipative PTFE stainless steel braided hoses between cylinders.
7" color touchscreen HMI with 12MB on-board data, 4GB Micro SD card for data logging and 2 USB ports.
Built-in RTU for remote access thru SCADA, CPU, and/or cellular with: – DNP3 – slave and MODBUS RTU/TCP/ASCII/RTU SCADA protocols. – Cellular alarming with multi-carrier 4G LTE support with 3G/2G fallback. – RJ45 Ethernet ports and a fiber optic port.
Visual and remote alarm/signaling for flow rate integrity, leak detection, and cylinder saturation.
Approximately 1.5 LPM flow rate using 120V/60Hz or 230V, 50Hz, seal-less, leak proof, canned, rotor type pump.
Stainless steel frame, cylinders, valves, and hardware. Unit is of substation quality durability.
Hydraulic quick couplers for fast saturated cylinder change-outs while transformer remains energized.
 24VDC power supply for sensors and control cabinet components.
RJ45 Ethernet Panel Interface Connector to permit downloading of logged data without having to open enclosure.
1-micron particle filter with visual status indicator.
Two (2) oil sampling ports.
Ultra-wide band 2G/3G/4G LTE/Cellular/CDMA and Wi-Fi antenna for 2G/3G/4G applications.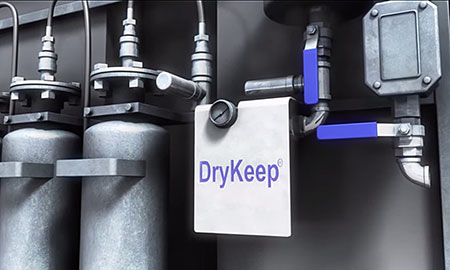 All PLC materials and protective devices are enclosed in a pad lockable NEMA 4-IP65 enclosure with hinged door, an inner swing panel and outer cover.
We reserve the right to make changes to any described details and technical data contained herein without notice.  Continuous product enhancement by DryKeep® and local conditions may also result in deviations.